Description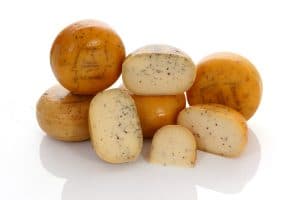 IN CONNECTION WITH THE EXTREEM INCREASED CHEESE PRICES CURRENTLY BILLED BY OUR SUPPLIER, WE ARE UNFORTUNATELY NECESSARY TO SIGNIFICANTLY INCREASE IN PRICE OF THE SALTLESS CHEESES!
Raw milk handmade cheeses without salt or any other additives. The cheeses weigh between 800-1000 grams depending on the age.
pay attention! These cheeses are not in our store and must be collected from the farmer. We collect these early every Saturday morning and are then only sent once a week on Monday. We would like to receive the order the Friday before before 4 p.m.